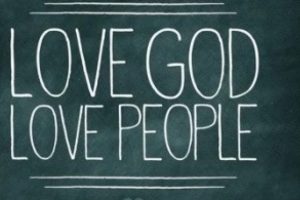 Serving together, often called missions, is a really big deal for Crossroads because it's a really big deal to God.
Our homepage says we're striving to be a church that is shaped by and is devoted to living out the Great Commandment: "You must love the Lord your God . . . (and) love your neighbor as yourself." And we are. This love, for God and for people, is expressed in action as we obey the Great Commission by sharing God's love in word and deed. The Great Commission: ". . . go and make disciples of all nations. . ." is God's heartbeat for all of his followers and those words are our marching orders.
So our goal is to go and live each day as missionaries–those who have been sent–who live and reveal God's Kingdom and make disciples wherever God places us. Wow, what an adventure! We are:
Missionaries as individuals and families– We desire to listen for, and then obey the Spirit's prompting as we look around and pray for the people around our workplaces, schools, neighborhoods, or wherever we find ourselves every day and wherever God sends us. As God opens doors, we want to show and share Jesus' love with people who have not connected with God or with a church family and invite them to become disciples.
Missionaries as a church family– And we believe with all of our hearts that God placed Crossroads Church in our Odenton/Severn/Gambrills community  because we are charged with the task of making disciples in our community. We can accomplish more and meet greater needs when we work together, and God intended for his church to do that. So we as a local church family are about the business of meeting needs and sharing God's love with our community. We're also charged with the task of going and making disciples wherever God sends us. And God sends us- sometimes to a neighboring state, and sometimes around the world- and we get to go and share Jesus' love!
If you'd like more info about Crossroads missions, or want to know about opportunities to serve, check out this page and/or email Melba. She'd love to hear your story and invite you to join ours.